Singer M1000 & M1000.662 Review: Should you buy it in 2023?
The low-cost sewing machine options with high utility are always the favorite choice of sewers. The Singer M1000 is a new product that will fulfill this trend and brings stunning features for such an affordable price. 
This sewing machine has attracted the attention of both beginners and adept sewers. So, what is so special about the Singer M1000? 
Is this sewing machine a suitable product for your needs? Read this Singer M1000 review, and I will show you the answer!
An Overview Of Singer M1000 Mending Sewing Machine
The Singer M1000 is an affordable sewing machine developed and produced by Singer. This product aims at beginners with the main purpose of mending and repairing on the basic level. 
For these reasons, you should not expect too many advanced features or high capacity from this sewing machine. The Singer M1000 is not meant for large sewing projects and sophisticated tasks that deal with heavy fabrics. 
The values of this sewing machine lie in its lightweight, sleek design, and portability. The Singer M1000 is easy to use since it's designed for beginners. 
For these reasons, you should only consider the Singer M1000 for quick mending and simple sewing small projects with light fabric.
M1000.662 is the new version of M1000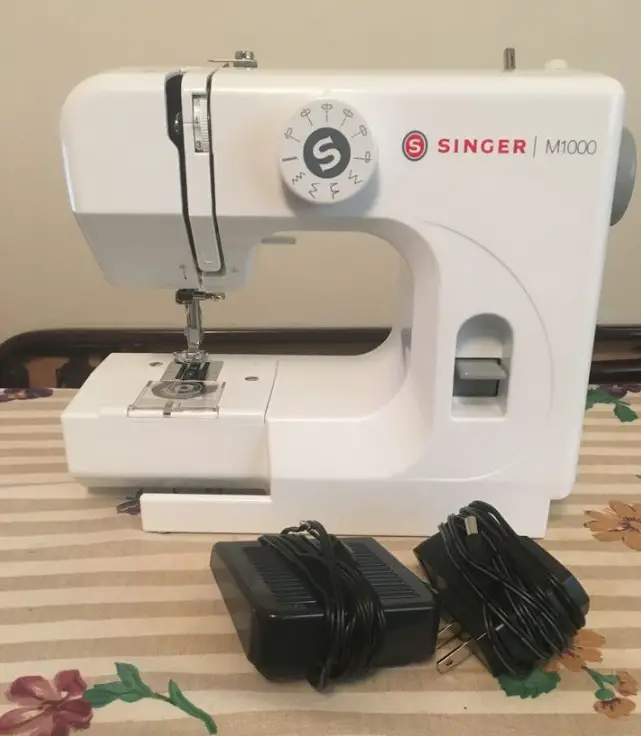 Consumer Ratings
Before dwelling on the in-depth details of the Singer M1000, I want to show you the average consumer ratings of this sewing machine. The Singer M1000 reached an average score of 83,2 on 100.
This score is not low when compared to the other Singer's products. However, it's still one step behind many high-end sewing machines from Singer, such as the Singer Stylist 7258 (93,1) or Singer 9960 Quantum Stylist (88,4).
On online retail websites like Amazon, the Singer M1000 received decent ratings. 
On Amazon and Walmart, Singer M1000 received 4,1 stars out of 5 from buyers' ratings. Meanwhile, this product received up to 4,4 stars from Canadian Tire. 
Highlight Features Of Singer M1000
I have ordered and experienced the Singer M1000 for quite a long time. Here are the basic features and selling points that I love most about this product. 
Accessories
The manufacturer doesn't include many accessories in the box. You'll get an all-purpose preset foot and 15 transparent class bobbins, plus a foot control and a power cord. 
There is also a screwdriver and a needle threader to help users set up the machine. The setup process is really straightforward since there aren't many accessories accompanying the box. 
Singer also provides a storage compartment attached to the screw machine, which can be removed easily. Overall, it didn't take me long and much effort to set up the Singer M1000. 
For those that haven't used a screw machine before, the setup process won't be too challenging if you follow the owner's manual. The manual is only available in English, with useful instructions and easy-to-understand illustrations. 
Lightweight And High Portability
With a total weight of 5,5 pounds, the Singer M1000 is one of the lightest sewing machines I have ever experienced. You can easily lift the machine off and carry it using only one hand. 
This feature makes the Singer M1000 a perfect option for mobile sewers who travel a lot to sewing classes or different sites. Its compact size can fit comfortably in a small bag to carry around. 
Related: How To Fix Sewing Machine Handwheel
A Sleek Appearance And Ease Of Usage
The white color and aesthetic design of the Singer M1000 are an excellent match for a small sewing setup. Though this product is not a complete sewing machine, it's relatively simple to operate with many helpful components. 
This should not be a big complaint since the Singer M1000 was designed as a mending machine for small projects. It's a sleek and small device to travel with and handle basic sewing tasks, not complicated projects. 
The 32-stitch application notch looks very eye-catching and sleek. Some stitch applications are very helpful and can fulfill basically every fundamental sewing task, like mending or repairing a fabric garment.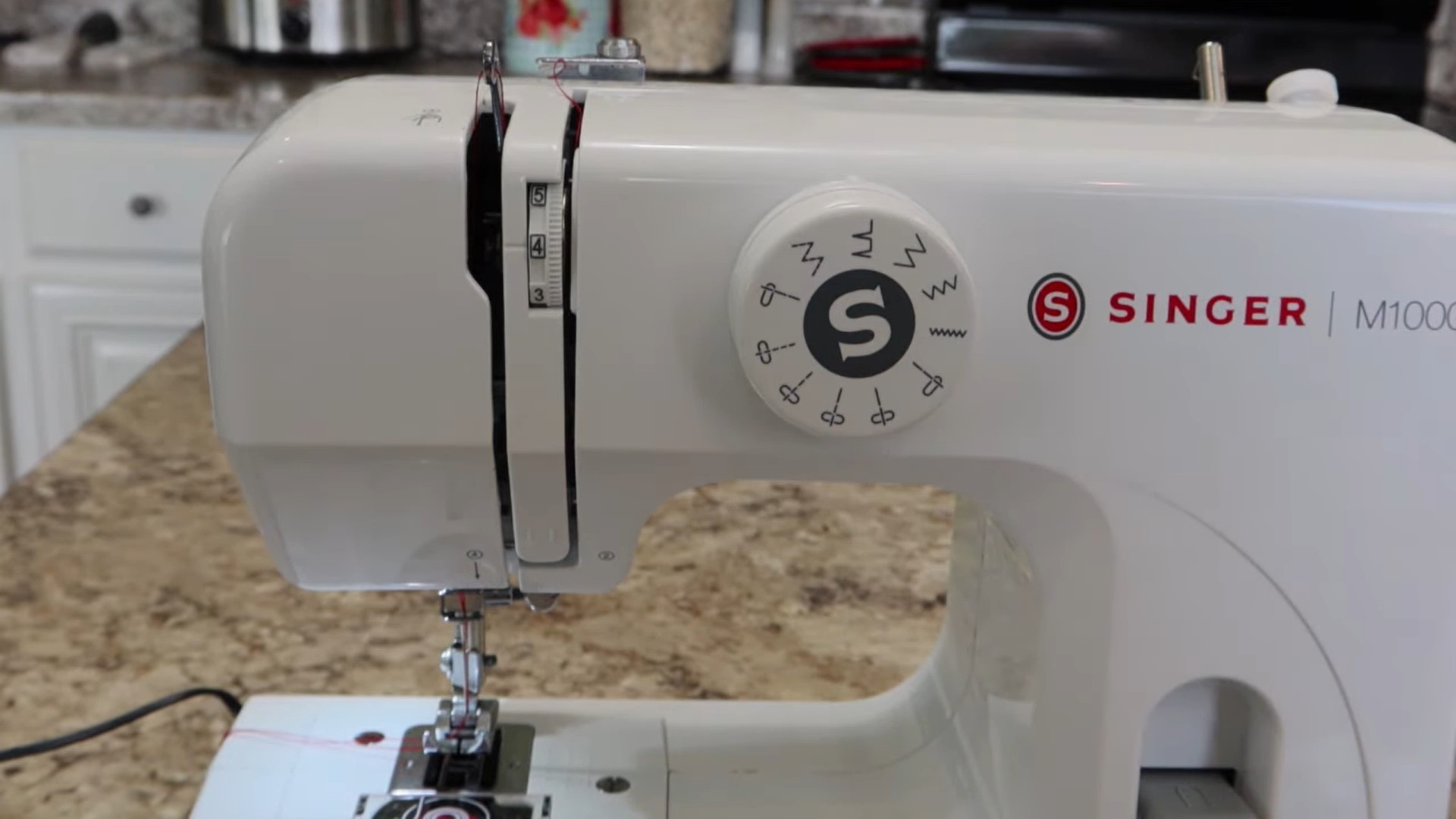 Special Features
Singer M1000 features a metal frame to deliver higher durability and a more beautiful appearance. However, the metal frame won't add much to the machine's overall weight, which is a plus point for me. 
This product also possesses a free arm, allowing you to mend the cuffs and hens easily. This component is very accessible since you just need to slide off and take out the built-in storage attachment. 
Another selling point of the Singer M1000 is its top drop-in bobbin, making it easier to monitor the thread supply. The product's 32 stitch applications are not extensive, but it's more than sufficient for basic sewing purposes.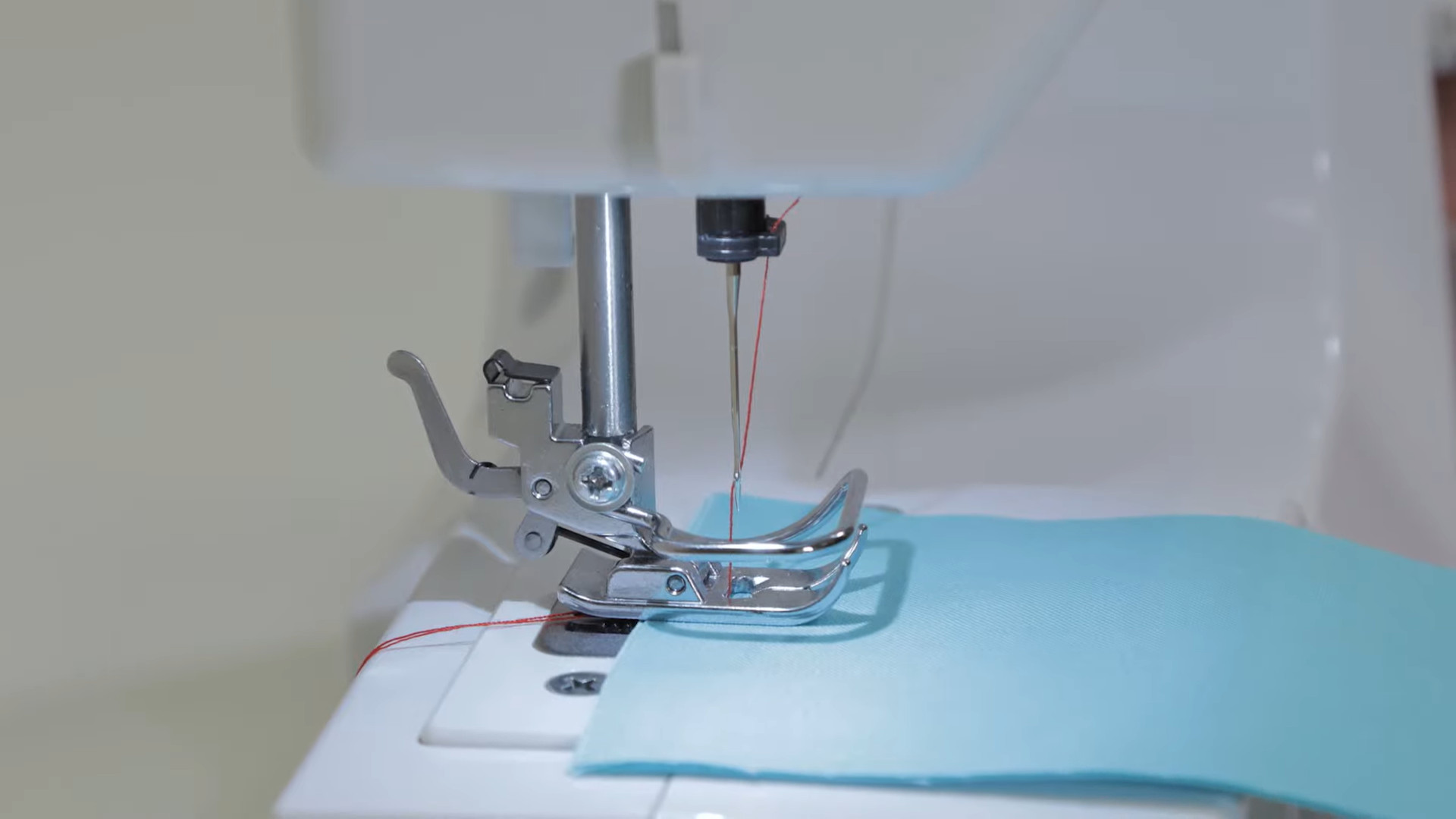 Warranty
I was really impressed that Singer provided the Singer M1000 with a limited warranty for up to 25 years. This warranty policy is decent, given the low cost of the Singer M1000. 
However, it won't cover every part of the sewing machine. The warranty only covers the machine's head and electric parts (lighting assembly, speed control, motors, and switches). 
There is an additional 90-day warranty for the machine's accessories, rings, bulbs, and other adjustments. 
Related:
Real Experience With The Singer M1000
My experience with the Singer M1000 was pretty good, despite some minor frustrations that I will discuss further. The first impression I had with this machine was its easy and simple setup instructions. 
The pre-threading bobbin is a great feature, especially for amateur sewers. However, the threading process is a little challenging since I have to insert the threader from the needle's backside. 
Once all the setup is completed, I quickly grab a small fabric garment to test the machine's stitch. The machine performed pretty well, and it didn't generate much noise in the process. 
Another thing worth mentioning is its compact size. The Singer M1000 compact's design added many conveniences since I don't need much storage space.
It can easily fit on my mini-size sewing table and still spare much room for the other accessories. Despite many frustrating comments about the machine's lighting, I felt that its LED lights were pretty bright. 
They aren't bright enough to make you feel comfortable in the dark, but their quality isn't bad either. However, I wished that Singer could install an on/off switch for the machine's light bulb. 
Singer M1000's foot control works satisfyingly, in my opinion. I can easily adjust the speed by resorting to foot control solely. But my biggest complaint about the Singer M1000 is actually its stitch dial. 
The stitch dial requires a little more strength to perform the zig zag stitches, or the dial just moves in a straight direction. Overall, I'm content with the experience Singer M1000 delivered. 
This sewing machine isn't compatible with large projects and thick fabrics because it wasn't intended for that purpose. 
The compact size and ease of use will add more comfort to your sewing process.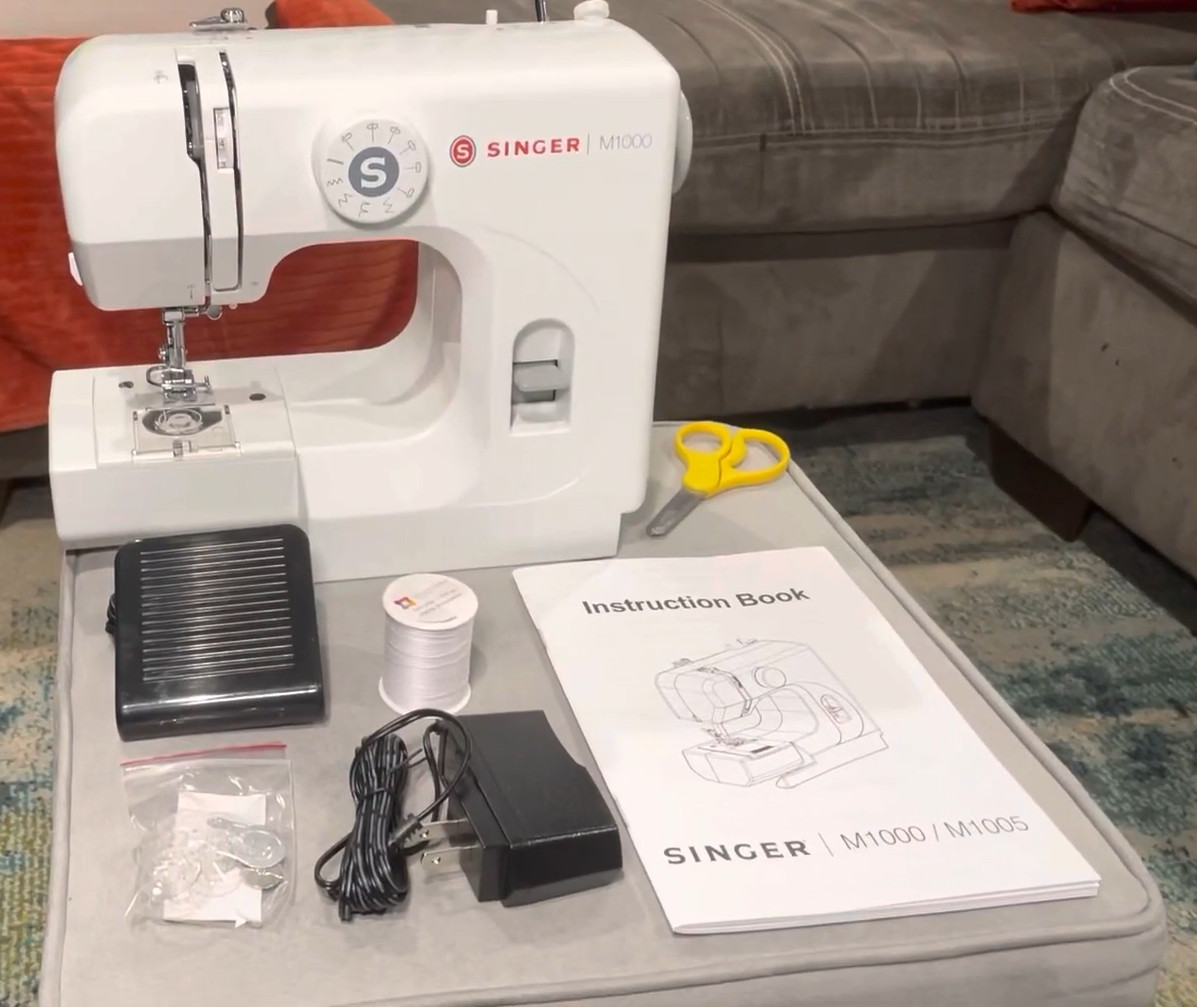 Pros And Cons Of The Singer M1000 Sewing Machine
Here are the significant advantages and setbacks of the Singer M1000. You should consider each point carefully before making your purchase decision. 
Pros
Affordable price
Great value for its low cost
Easy to maintain and repair
A sleek and aesthetical design
The stitch is eye-catching and decent
The free arm allows users to mend the hems and cuts easily
Its compact and small size delivers high portability
Very lightweight and easy to carry, suitable for small spaces
Cons
It's not a full-sizing product.
The foot pedal lacks advanced features
Lighting capacity needs improvement
Only suitable for simple and small projects
Not compatible with thick and heavy fabrics
Prone to bobbin thread, jamming, and needle breakage 
Final Verdict: Should You Purchase The Singer M1000?
In summary, the Singer M1000 is ideal for beginners seeking a simple and easy-to-use sewing machine. This product delivers a decent stitch and performance, especially when dealing with simple and minor projects. 
In addition, this machine is straightforward to operate and store due to its compact and small size. With an affordable price and simple components, it won't cost much money to maintain and repair the Singer M1000. 
However, there is still much room for improvement since the Singer M1000 is not compatible with thick and heavy fabrics. This sewing machine is definitely not an excellent choice for professional and adept sewers. 
Furthermore, the lighting condition and durability of the Singer M1000 are not high. There are many reports about thread breakage or bobbin jam, which is a significant setback for those sewing on regularly. 
Nevertheless, all these setbacks are understandable given the machine's amazingly affordable price. If I'm a new sewer practicing my craft, the Singer M1000 can easily fulfill all my needs. 
That is everything you need to know before considering the Singer M1000. I hope this Singer M1000 review provided you with helpful information to make the wisest buying decision. Thank you for reading!