What are Sewing Notions? The basics of Sewing Notions in 2023
Sewing notions are indispensable tools for any sewer. Without them, you cannot complete any sewing task efficiently. So, what are sewing notions? Which types and categories of tools do sewing notions include?
In this post, I will list every type of sewing notion and provide additional information relating to their functions, characteristics, and utility. Keep reading, and you will understand everything about sewing notions. 
What Are Sewing Notions?
Sewing notions include every extra sewing tool, from essential accessories like scissors and needles to special garment materials. They are crucial tools that help sewers do many sewing tasks and create a complete garment. 
However, sewing notions commonly indicate small accessories, not large sewing machines and tools. They are diversified and range in many features, such as materials, utilities, embellishments, and tools. 
The most basic sewing notions help sewers do simple tasks like trimming, cutting, or measuring garment pieces. They can also be decorative or functional tools like tapes, fasteners, and trims. 
To help you understand sewing notions, I have categorized them into groups based on their characteristics and functions. Follow the sections to find out!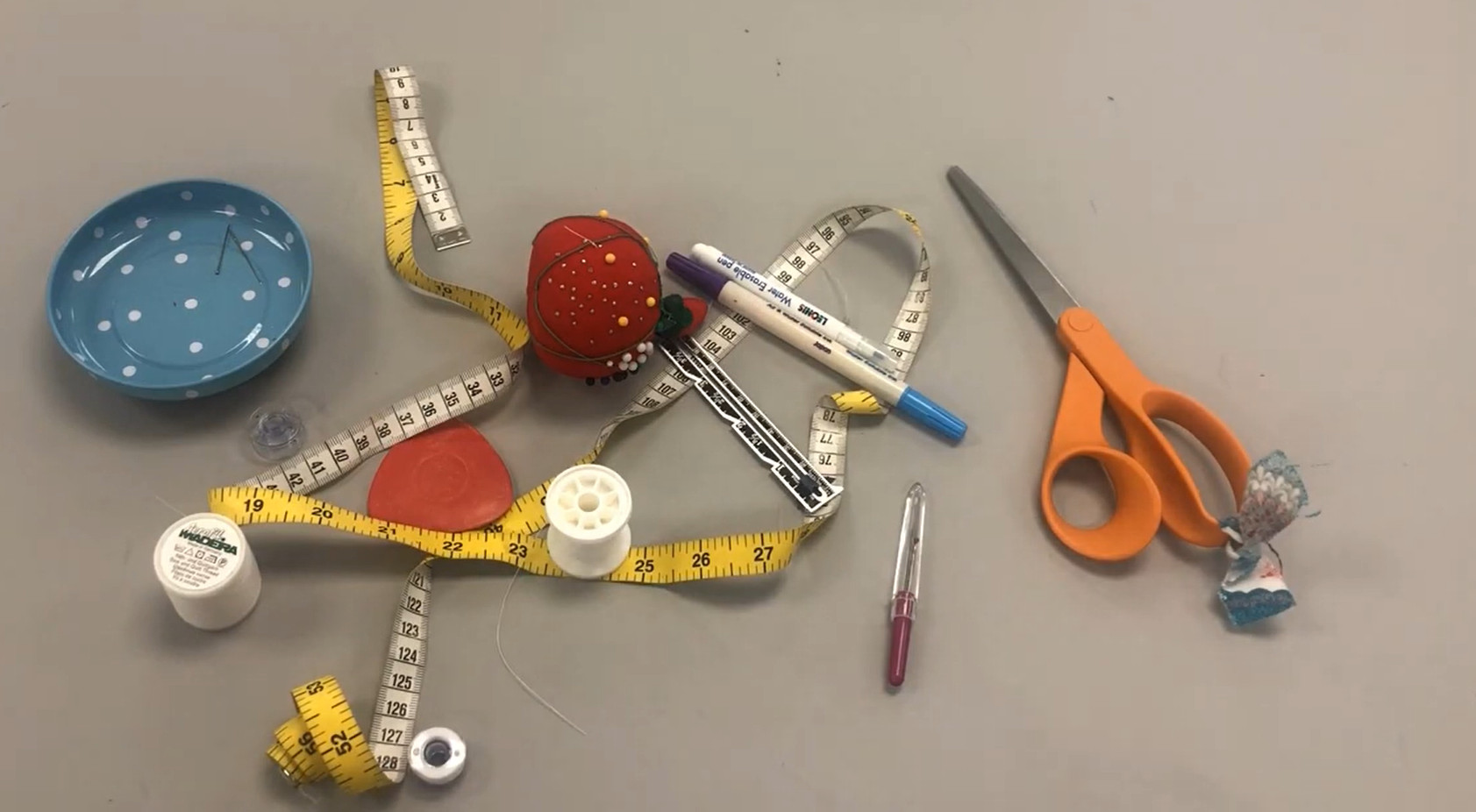 Basic Sewing Notions
These basic sewing notions are indispensable in performing tasks like cutting or trimming a garment piece at entry-level projects. Some examples of basic sewing notions are 
Needles: They are small and sharp metal needles with tiny holes at one end. These tools help you sew the thread through a fabric piece. 
Thread: This tool features a thin and long design with standard materials like cotton or fibers. 
Pins: The small and sharp pins come with a bulb at one end, helping sewers pinch the fabric garment securely before sewing. 
Pincushions: A soft pillow to store your needles and pins when they're not in use. 
Thimbles: The metal or plastic thimbles serve to protect your finger from getting stuck when pressing the needle into the fabric. 
Closures And Fasteners 
Closures and fasteners are necessary for finishing a complicated sewing project. They help you secure, design, and create a perfect shape for any garment piece.
The most popular notion in this category is buttons, which hook onto small holes in the fabric piece. Another common tool is the zipper, a metal fastening tool with two interlocking parts.
Related:
– What Does Nap Mean in Sewing?
– What is a Walking Foot Sewing Machine?
Tapes And Trims 
These sewing tools make your garment pieces' edges secure and clean, ensuring their aesthetic look. Sewers can also use tape and trims as decorative patterns to add more beauty to their sewing projects. 
Some popular tools for taping and trimming are ricrac, bias tape, cording, ribbon, and elastic. The ribbon carries decorative purposes as well as tying utility for many fabric garments. 
Marking Tools
To sew and secure your sewing works effectively, you have to mark and create a layout on their textures. This work is impossible to carry out with the marking tools, another indispensable sewing notion. 
Most sewers and tailors use chalks and liquid pens to mark fabric tools. The lines created by these tools are erasable and can print easily on many fabric materials.
Measuring Tools
Whether it's a bed sheet or a skirt, you have to measure the fabric pieces to create a suitable design and size for the project. 
You don't need complicated and special measuring tools for basic sewing tasks, except for gauges, tapes, and rulers.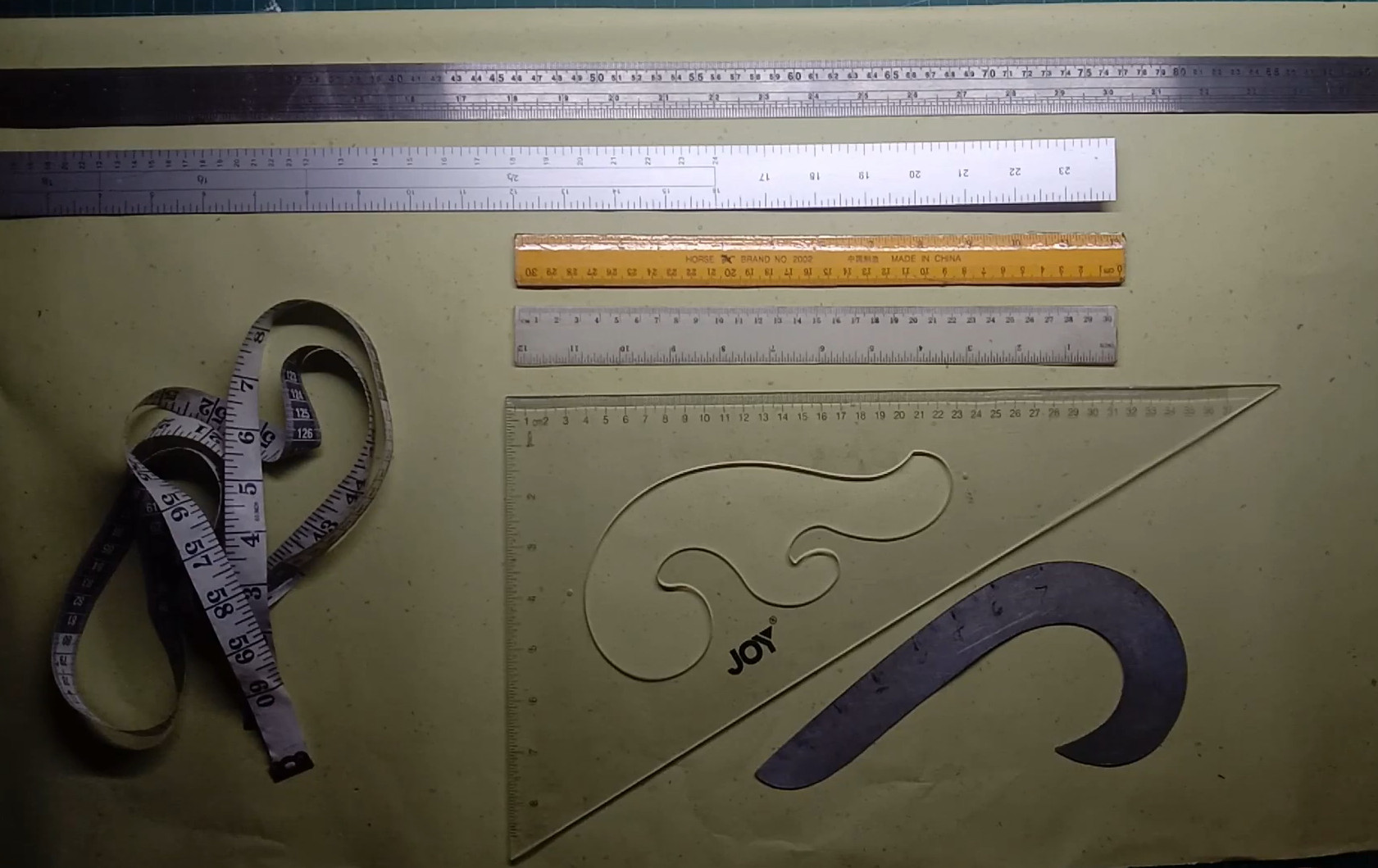 Cutting Tools
Cutting tools commonly come with sharp edges for cutting fabric sheets or shearing off the trims of fabric garments. Depending on the type of material and size of the fabric pieces, you can choose cutting tools like
Scissors: These are one of the most common cutting tools used by every sewer. They are convenient, effective, and can be operated using fingers. 
Shears: These tools are pretty similar to scissors, but they feature up to two sizes to accommodate the sewer's fingers' size and holding style. 
Embroidery scissors: These tools have the same design as regular scissors, but they have smaller and circular handles with pointed edges.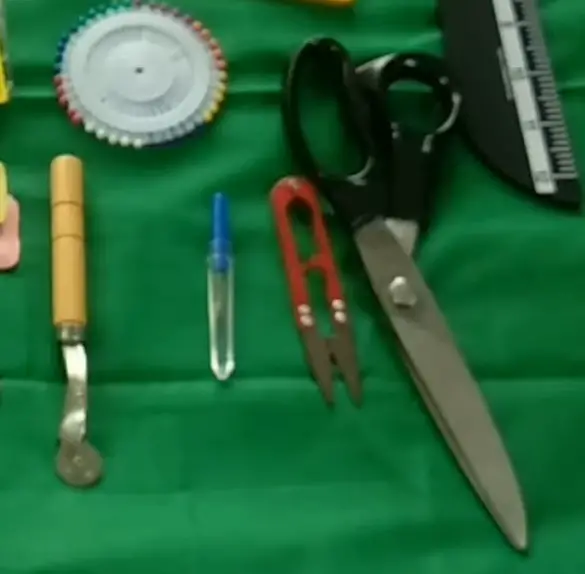 Pressing Tools
These tools help tailors press out the crinkles on fabric pieces or open the seals. They commonly use an iron board, but you can find additional tools like pressing cloth, seam rolls, or tailor's hams. 
Related:
– Coverstitch vs Serger
– Singer M1000 & M1000.662 Review
Questions and Answers
Check out this section to discover more interesting facts about sewing notions. They will help you understand deeper about sewing notions and how they work. 
Why Are They Called Sewing Notions?
The sewing accessories are called notions because of the word "notion" meaning, which indicates clever inventions or bright ideas. From this meaning, people in the 18th gradually used "notions" to call "cheap tools" sold in sewing stores. 
Where Can You Purchase Sewing Notions
Most grocery stores provide basic sewing notions like needles or scissors, and you can find specialized tools in sewing stores. Sewing notions are also available on online retail websites under many categories and designs. 
Are Sewing Notions Important In Sewing?
Sewing notions are critical, if not indispensable, for any sewer. They help you carry out many sewing tasks more efficiently. Meanwhile, it's impossible to make a sewing project with only the fabric material. 
What Are The Most Popular Notions?
Every sewing notion holds a critical role in many sewing tasks, but the popularity of each task also varies. Some of the most commonly used sewing notions are 
Magnetic pin bowls
Needles
Sew grip gloves
Thermal thimbles 
Measuring tools
Seam rippers
Final Thoughts
In summary, sewing notions are the additional tools you need to complete a garment or project. It includes everything, from basic tools like needles and pieces of cotton to specialized notions like elastics or zippers. 
Most of these notions are available in many sewing accessory stores. You can consider your sewing tasks and their required sewing notions to select the right tools. 
I hope the answer and information provided can help you understand more about sewing notions and their utility. If you have any further questions, feel free to ask me via the comment section. Thank you for reading!